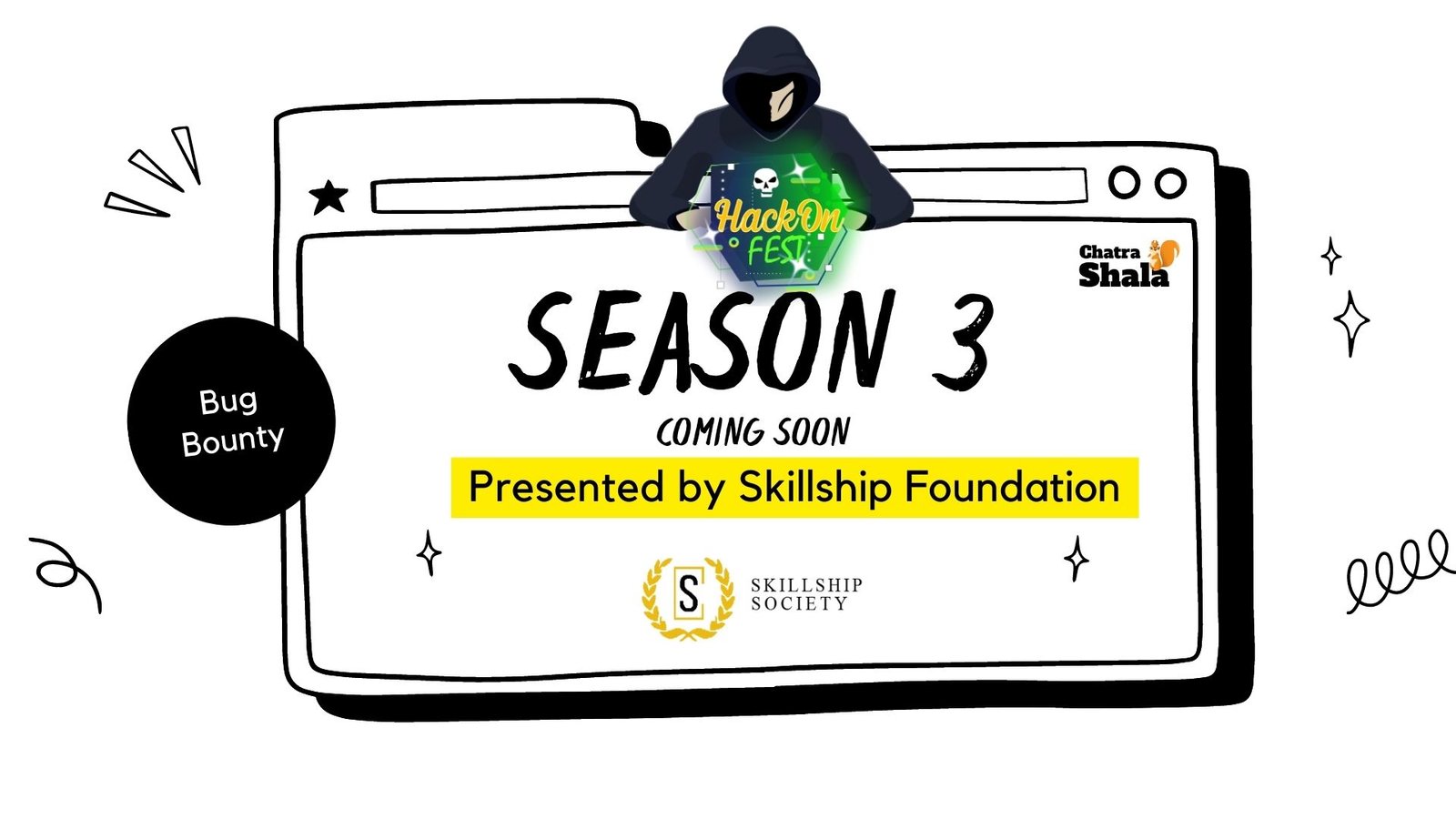 OH!
Be a part of the team Hack0nFest 2023 | Season 3
The organising team of Hack0nFest 2023 is currently holding a call for expansion of our team in order to deliver a great Third edition of the Cyber Security Leanring experience .
We are looking for motivated, inspired and enthusiastic. students/young professionals based in India, Outside, with an excellent level of English, reliable, communicative, and willing to gain experience in project management and CyberSecurity. Please note that previous Hack0nFest experience could be an asset, but is not a must: each accepted person will be trained in regards to the Hack0nFest concept based on Skillship Foundation standards.
Are
you Ready for thr Challenge
---
Then look at the positions' description below and choose the one you feel most confident about. While organizing such an Event can be time and effort-consuming, it is a rewarding experience that will make you a part of a fast-growing, CyberSecurity network of promoters of Indian Values, who foster dialogue and facilitate a better understanding of the decision-making.
Your Benefits
---
Certification for successful completion of the work

Experience as Officer in an international youth project
Development of soft skills
Gain international teamwork experience
Roles & Responsibility | Application Link
Must Responsible for Organising the event Event organizers plan and organize events in the most efficient way possible. To be an event organizer, it's important to have certain skills so you can easily perform your responsibilities
1. Manage the event planning process
2. Manage budget parameters
3. Communicating and network development
4. Supervise event setups
5. Select event speakers if required
6. Strategic planning

Content Team

There will be 5 people in the team: 1 Director and 4 Team members
They will be responsible for the Content of the Event, Hack0nFest which means:
1. Creation of the Guides for the participants, which will include information about the nature of the event, reading materials for a proper understanding of the Event Flow
2. Act as a Legal Officer during the event
3. Regularly report to Content Director (submit reports, skype meetings, …)

Socials Team

1. The Head of Socials is the person in charge of arranging the social events for the conference with the goal of fostering a fun, welcoming, connected and supportive community..

2. Excellent communication and interpersonal skills

Head of PR and Social Media

1. Main responsibilities:

2. Selection of a team of PR in collaboration

3. Development of a Public Relations strategy so as to ensure an effective promotion of Hack0nFest 2022 Event towards possible partners, donors, and prospective applicants

4. Coordination of the PR team (tasks assignment, workflow management, hold Skype meetings…)

5. Make sure that the event is spread through all relevant channels

6. Oversee and update social media channels of Hack0nFest

7. Interact with the Skillship Team (submit monthly reports, attend Skype meetings etc.).

Background and Skills

1. Experience in PR (preferred)

2. Experience in marketing/advertising (preferred)

3. Communications/Public Relations/Marketing background

4. Team management experience

5. Excellent organisational and time management skills

6. Excellent level of English