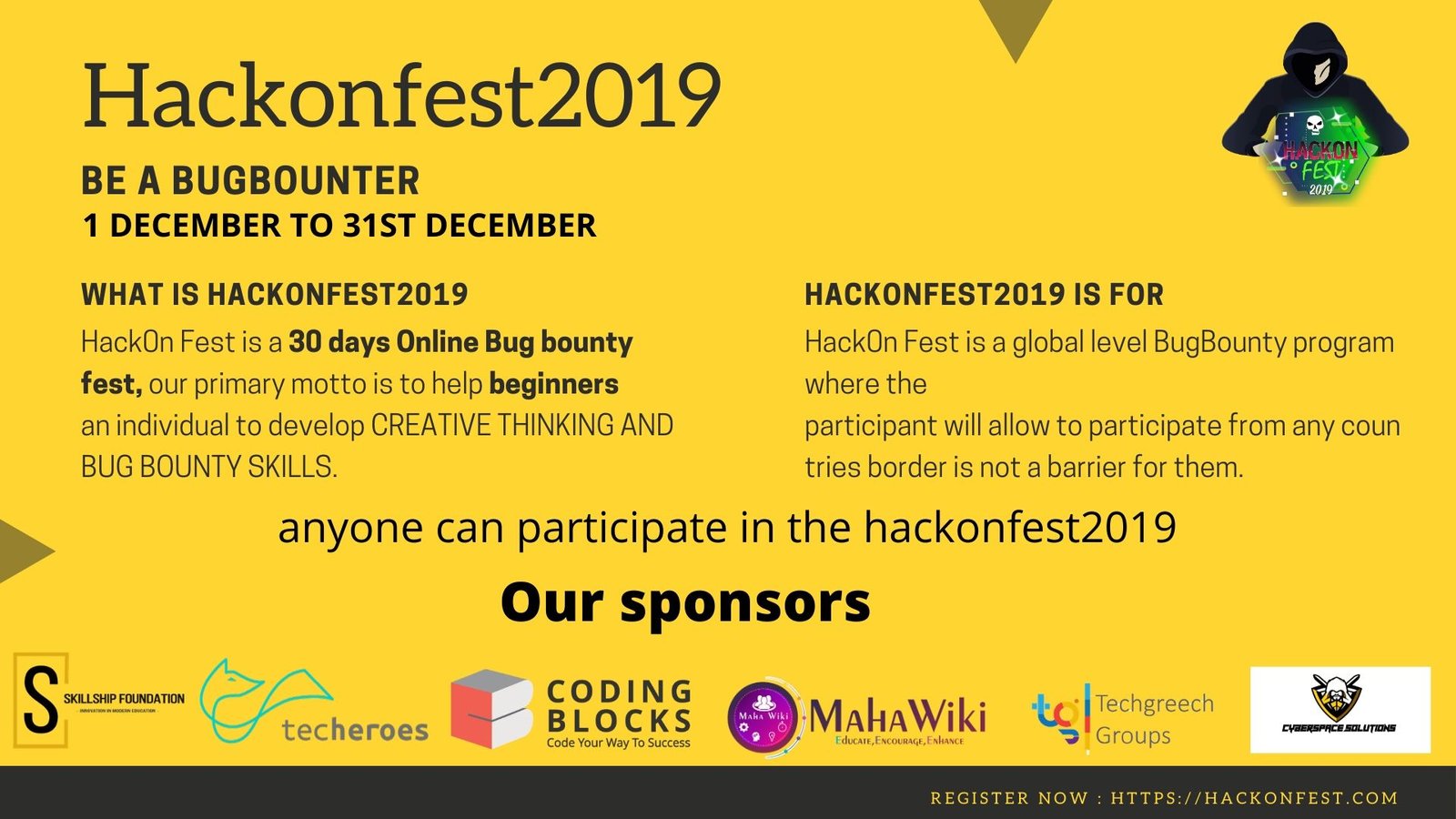 Hackonfest 2019
22nd November 2019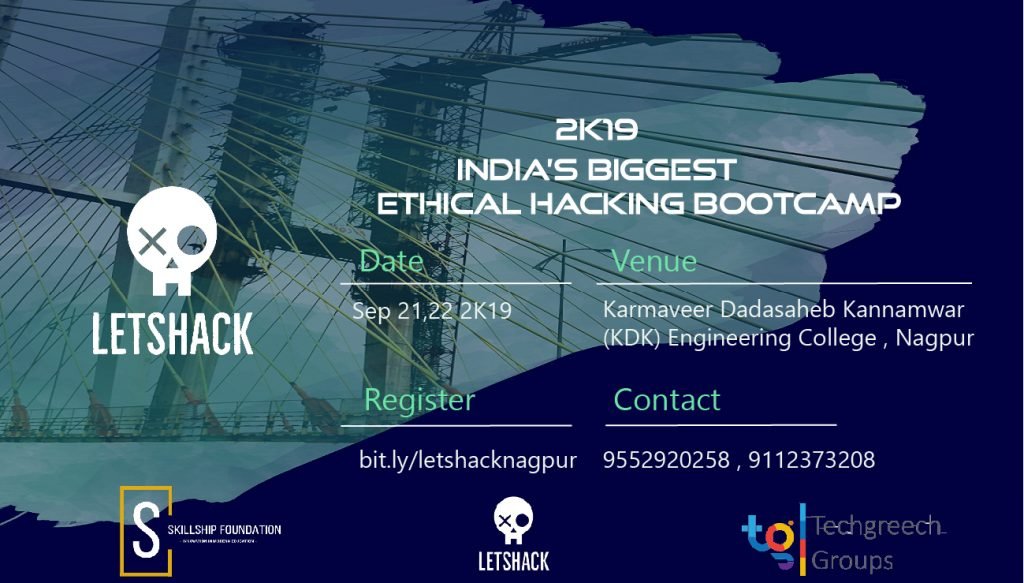 India's biggest Ethical Hacking Boot camp LetsHack is the independent tech community that operates under Techgreech Groups, one of India's biggest startup chain Network. LetsHack was initiated in 2017 by Sriram K, Founder and present CEO of Techgreech Groups. LetsHack is a two-day workshop from basics to Advanced on Ethical Hacking. Event Date: 21,22 September 2019 Location: KDK College of Engineering Nagpur (Karmavir Dadasaheb Kannamwar College of Engineering) AIM OF LETSHACK LETSHACK WAS INITIATED IN ORDER TO PROVIDE AWARENESS ON CYBERSECURITY SINCE THE WORLD OF THE INTERNET IS GETTING INCREASED. AND GARTNER HAS ESTIMATED THAT CYBERSECURITY ATTACKS WILL BE INCREASED BY 45BILLION BY 2020. INDIA WITH 90% OF INTERNET USERS, AND HENCE WE HAVE BECOME AN EASY TARGET FOR ATTACKERS. AND SO TO FOSTER THE KNOWLEDGE OF ETHICAL HACKING AND ONLINE PROTECTION, LETSHACK CONDUCTS WORKSHOPS ON ETHICAL HACKING WHICHWILL HELPYOU BUILDAWAY FORYOU INCYBERSECURITY.
EVENTS LetsHack from since 2017 has conducted more than 200 workshops all over India and has a footfall of more than 25,000 students. Guided more than 25,000 students in India in the field of Cybersecurity. LetsHack has been conducted in major cities of India like Chennai, Bangalore, Warangal and Mysore. And expected to reach more than 10,000 students through this boot camp. Through this workshop, we expect an outcome of more than 5,000 direct recruitments to companies through this boot camp.
ABOUT THE SPEAKER Sriram K, Founder & CEO of Techgreech Cyber Solutions Pvt. Ltd. • India's leading Ethical Hacker and Cybersecurity Consultant with 4 years of experience. • Worked with Top Tech giants like Google, Microsoft and Facebook. • India's best Exploit writer and released 5 tools on Security Assessment for Linux Operating systems. ( OpenBSD, SecBSD, Kali Linux, WTFSamurai, BlackArch ) • Hacked more than 700 companies including Dutch Government websites. • Works with Central Bureau of Investigation as Information Security Analyst for Cybercrime department of Tamil Nadu.
PARTNERS ANDTIE-UPS LetsHack has tied up with some leading communities and tech Organizations in order to make this event a grand success. Women Tech Makers, Chennai will be partnered for LetsHack Chennai, including various security clubs. SkillShip Foundation, from Nagpur, will be the partner for our LetsHack Nagpur event, in order to provide the help among the local services. Chennai, LetsHack – Sriram, 9789010619 Nagpur, SkillShip Foundation – Sachin Pandey, 9112373208 Venue partner – KDK College of engineering Nagpur (Karmavir Dadasaheb Kannamwar College of Engineering)
CITIES LETSHACK WILL BE CONDUCTED • CHENNAI • DELHI • COIMBATORE • SALEM • ERODE • MYSORE • WARANGAL • NELLORE • JALANDHAR • HARYANA AND MORE THAN 30 CITIES OF INDIA.