Mentor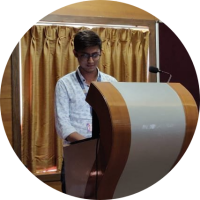 Hanif
Android Mentor
---


Android Development mentor at Skillship Foundation.
Hanif is a Community Person who loves to contribute to the Community.
He is Co-Lead at Mozilla Campus Club and Core Team member of DSC, where has conducted many workshops on AI, ML and Cloud. He is also a tech speaker who loves speaking on Cloud, Android, iOS Development.
He is an Ml Enthusiast. He is currently working as a Mobile app developer (Native Android and iOS Developer) at a private company based in Ahmedabad.
Area Of Working:
Android Department.
Projects :
1.Music using Ml
Music using ML is a vocoder which is used to synthesize the audio clip which will be generated believable human like singing audio.
2.NewsApp
An android app which shows recent news based on the specific locations.
Achievements:-
- HackerEarth Campus Ambassador.
- Mozilla Campus Co-lead.